Arrival and departure times
Please find information about transport to Erraid here.
Arrival times on Saturday are between 2 pm and 5 pm, except for people who come with the Findhorn bus (when it is running), who will arrive around noon.
Departure on Saturday is between 8.30 am and 11 am, giving us time to prepare for new guests.
Accommodation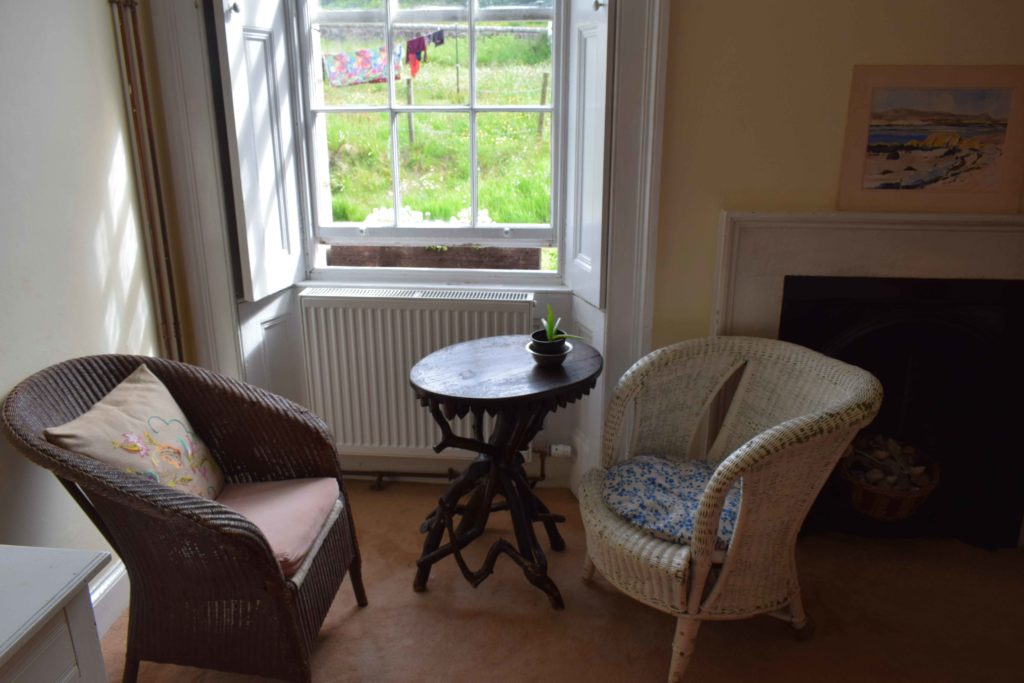 During your stay you will usually stay in a house with one of our members.  Most of the old lighthouse keepers' cottages we live in are the home to one of our community residents. Each house has two inter-linked side rooms for guests.
Each side room has two beds and you may be sharing your room with someone else and/or have another guest in the other room who has to walk through your room to access the rest of the cottage, including the bathroom. If you are with us as a Retreat Guest you will always have a room to yourself although the other side room may be occupied.  We can't provide you with complete privacy so do bear this in mind when you book.
Bed linen and towels are provided.
Meals
You can help yourself to breakfast in your cottage. We cook communal lunches at 12.30 on Monday, Tuesday and Thursday.  Communal dinners are at 18.00 on Saturday, Monday, Tuesday, Thursday and Friday. Most of our meals are vegetarian. When we serve meat there will always be a vegetarian option available. There are no communal meals on Sunday and Wednesday and you will have food provided to cook your own meals.
Health and well-being
Please be aware that many of the tasks we offer in Love in Action require you to be fit and healthy.  Whilst we can take account of any health related issues, you do need to be aware that you need to be mindful of what you do to ensure you look after yourself.  Also, please take account of our remote location as this means that we aren't accessible for those with significant mobility issues and health services are not as close by as on the mainland.
In 2017 the owners of the island have installed indoor toilets in the cottages in our street, although not in Pier Cottage.  However in periods of drought all of us use the composting toilets, which are out the back of the houses, in order to conserve water.
Things to bring
– If possible bring a backpack instead of a suitcase (especially in winter)
– Indoor shoes or slippers
– Warm clothes
– Wellington boots (you can borrow some of ours if you don't want to carry yours)
– Waterproof jackets and trousers (you can also borrow these but having your own may be more comfortable)
– A torch, especially in winter when it gets dark early
– Cash if you would like to purchase candles or snacks from our shop
You don't need to bring sheets, towels or a sleeping bag.
Things to do before your stay

– Please fill in the booking form before your arrival informing us of any food allergies, animal allergies and medical needs. We also appreciate a short introduction of yourself.
– Please pay the non-refundable deposit (£125 Love in Action and £175 Retreat / guest) by making a transfer to our bank account. The deposit confirms your booking.  You are provided with our bank details when you book.
Please consider taking a rapid lateral flow Covid test before your visit to ensure you test negative. This has been advised by the Scottish government for all visitors to the Scottish islands.
Winter travelling
If you are coming to visit in the winter, please make sure that you will be in Fionnphort or at the log pile around 2 pm as we can't boat over in the dark.
Be aware that in winter we won't always be able to bring you across to the island by boat as this isn't possible in high winds, so we may have to take you to a place where we can usually walk across.  This is a half hour walk across fields and the beach so, just in case this is necessary, please bring a rucksack instead of a suitcase with you and, if possible, wellies.
It is worth bearing in mind that you might not be able to make the journey to Erraid in one day.  Be prepared to arrange a night before your arrival and the night after you leave Erraid in Oban or elsewhere on the mainland.
Guest privacy policy