Guests are welcomed throughout the year to join our guest weeks which run from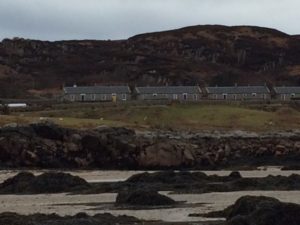 Saturday to Saturday. You can spend time working, celebrating and meditating alongside us in a sense of openness, honesty and appreciation. We invite you to come and join us as island custodians for one or more weeks. Children are always welcome, they usually love the adventure and freedom of the island. Participation in any of our weeks does not require you to have completed a Findhorn Foundation Experience Week.
Covid-19 and welcoming back guests
In response to Covid-19 and the continued need to maintain social distancing we have reviewed our offer to guests.  Our invitation, while social distancing restrictions apply, is for you to join us for a one or two week retreat with only a small amount of interaction with the community, with the option of extending your stay and being more fully integrated.  If you have visited before or if it is your first time, more information on what to now expect is here.
If you are able and willing to stay for more than two weeks, then we would love to consider you joining us as a long term guest. Long term guests can continue to be in retreat or can join our full Love in Action community rhythms, learning more about how we live as a community, sharing meals with us in our dining room, taking part in activities in the kitchen and other indoor spaces as well as outdoors in the garden, in the wood shed and in maintenance, looking after the chickens …
Please note we are currently only able to offer visits to guests who are coming from the UK or countries with travel corridors to the United Kingdom, and who have not travelled from or visited non-travel corridor countries in the previous 14 days.  Have a look here for the different guidelines depending on whether you are entering the UK via England, or Scotland).  We are unable to meet the needs of individuals needing to quarantine / completely self-isolate.
Scroll down to find available dates to visit. Please find information about our prices and bookings here and details about how to get to Erraid here. Please read this important information before your stay.
For your reassurance, here is information on how we are managing the risks associated with the virus so that we can endeavour to keep everyone safe .  
If you would like to visit with a group or host a workshop, please get in touch through erraid@live.co.uk.   
Calendar of weeks when we are open to new guests:                                                   
Starting on 19th September 2020
Celtic festival week: Mabon
Retreat Week
Starting on 26th September 2020
Retreat Week
Starting on 3rd October 2020
Retreat Week
Starting on 10th October 2020
Closed
Starting on 17th October 2020
Retreat week
Starting on 24th October 2020
Closed for family week
Starting on 31st October 2020
Celtic festival week: Samhain
Retreat Week
Starting on 7th November 2020
Retreat Week
Starting on 14th November 2020
Retreat Week
Starting on 21st November 2020
Closed to new guests
Starting on 28th November 2020
Retreat Week
Starting on 5th December 2020
Retreat Week
Starting on 12th December 2020
Retreat Week
Starting on 19th December 2020
Closed to guests
Starting on Monday 28th December 2020
Please email us if you are interested and we'll provide information on our 2020 New Year offer.
Week starting Saturday 2nd January
End of New Year retreat then closed for remainder of the week