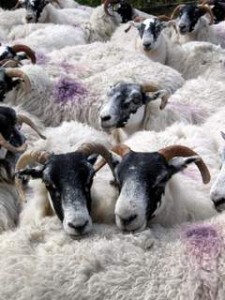 Part of our lives here on Erraid is looking after our animals and developing a good working relationship with them. The relationship we have with our livestock is one of loving respect, as we explore conscious cooperation with the animal kingdom.
There is a herd of Black Face sheep on Erraid belonging to the local shepherd, which the community helps with throughout the year. Sheep round-ups are a favourite with guests, who get to join in.
In the byre we keep our chicken family. They give the community their wonderful eggs in different sizes and colours. Every few months a group of chicks is born with the help of a breeding machine.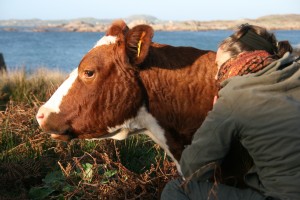 Dairy cows have long been a part of the community. Our cow Morvern passed away in November 2017. After given years of service she was retired but was still a loving, wise presence in the community. She still contributed by producing wonderful manure for the gardens.
Around the cottages our cats Moonlight and Shadow reside. They were found abandoned on Mull by one of the members of the community. They were very small and malnutritioned. Thanks to the loving care and patience of the residents they grew up to be playful cats. They tend to turn up when people are in need of emotional care. Some of our guests mentioned that they think the cats are secretly in charge of the island!
Some of our residents live with a dog. They are loving, playful animals who bring the community together.