Unfortunately we don't have candles to sell at the moment. 
Candles have been handmade on Erraid for 40 years, and have been an integral part what we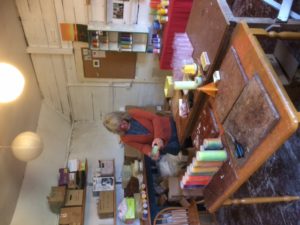 do here on Erraid. For us, candle-making is a link with Erraid's history and the lighthouse keepers who lived on this island for 80 years, maintaining the lamps that continue to protect seafarers from hazardous seas.
We make tall and short pillar candles that come in a variety of colour combinations. The most popular being rainbow candles, but also have striped ones with one, two or more colours in many different varieties.
Tall candles are £10.00 each, small candles are £7.00 each.  An order would also include a postage cost.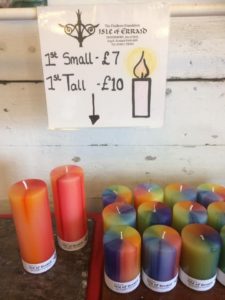 The colours we have are: green, blue, purple, red, orange, yellow and pink. If you would like to buy candles or have any specific requests about colour combinations then please email us at erraid@live.co.uk, or ring on 01681 700384 (the best time to ring is 6 30 pm- 7 pm).