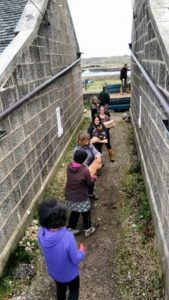 Our cottages and warm water are heated by wood-burning stoves. Providing wood for the stoves is one of the fundamental activities of our community.
Once or twice a year Tillhill provides us with logs. We keep our log pile near the jetty on the mainland. One of our residents regularly collects an amount of logs from the other side by tractor, which can only happen during a low tide.
The wood then gets cut into smaller logs with the help of a chainsaw. After this our hydraulic log splitter Iris is put to work. Guests can join in to help split and stack the wood and experience the pleasure of working with wood.
Around once a week we invite all residents and guests to join us in our log-run to fill up the small sheds between the cottages.